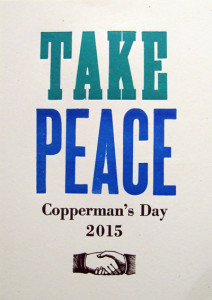 Sometimes it takes us a very long time to complete even a simple project. This has been the case with this, our Second Annual Copperman's Day print. It is a three-color print job, so it wasn't exactly the simplest project (each color is a separate print run). Be that as it may, we would have liked to have had this one completed a few weeks ago.
This project was begun on Copperman's Day, which is an old Dutch printer's holiday that falls each year on the Monday after Epiphany, which this year was the 12th of January. Printers' apprentices in Holland would get the day off on Copperman's Day to work on their own print projects, which they would sell for a copper apiece. And while we began in a timely fashion, a series of unfortunate events kept the project from reaching completion until only a few days ago. And here, finally, is this year's Copperman's Day print.
As luck would have it, our message this year for Copperman's Day of "Take Peace" comes right on the heels of Concordia, the ancient Roman feast of harmony and goodwill. The message itself continues the theme of our inaugural Copperman's Day print from last year, which read "Take Joy." These suggestions are direct from a Christmas Eve letter written by Fra Giovanni Giocando in 1513. In his letter, Fra Giovanni implores us to "take joy, take peace, take heaven." These things are up to us to choose, all a matter of perspective.
This year's Copperman's Day print is made from historic wood and metal types, set by hand and printed on the Vandercook 4 proof press in our Lake Worth shop. Like last year, we are utilizing a variant of self determined pricing and splitting the proceeds with the Jaffe Center for Book Arts. We are raising money this year for the Jaffe Support Fund, which is the fund JCBA uses to purchase new books and broadsides from book artists around the globe for placement in JCBA's permanent collection, an amazing resource for students and researchers in the book arts. The self-determined pricing allows you to purchase a Copperman's Day print (or a set of them, should you wish to share the message with others) at varying levels of generosity toward the craftsmen and the Jaffe Center. You can purchase one for as little as a dollar (sorry, a copper is not worth what it once was!). And if our $8 flat shipping rate scares you, don't worry, there are just two of us here operating Convivio Bookworks, and we have the ability to charge you considerably less for shipping if all you purchase today are diminutive prints like this. The $8 flat rate shipping is automatically attached to each order, but we will change it before we actually charge your credit card, and I assure you we will charge you a very fair price for shipping.
So a belated happy Copperman's Day to you! Raise your glass with us tonight and take joy, then, and take peace. And we'll give you three guesses as to what next year's Copperman's Day message will be.