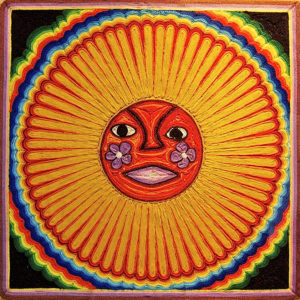 It's the 21st of June and the summer solstice arrives here in Lake Worth, which is currently in Eastern Daylight Time, at 11:54 AM. More or less––the precise moment will depend upon where you're at within your time zone. But roundabout measurements work fine in these cases, in my opinion. With the solstice, summer, for us in the Northern Hemisphere, will arrive by the almanac. It marks the moment when the sun reaches its highest point at the Tropic of Cancer, and it all has to do with our planet, tilted as it is on its axis, traveling around the sun. Our hours of daylight in the North have been increasing little by little since the December solstice, and now, our hours of daylight will begin their decrease. Our planet makes sure no day is exactly like the one that preceded it or the one that follows––a fine lesson in impermanence, even for those of us who are not fond of change. For a couple of days, though, the sun will appear to stand still at its highest point in the sky as the transition takes place and we begin working our way again toward winter. That appearance of standing still is what gives us our word solstice: it's from the Latin sol stetit, sun stand still.
The days at this solstice tide are long and the further north you go, the longer they are. Up at Lapland and other places near the Arctic Circle, the sun barely dips below the horizon. That is some palpable magic. It is the opposite––the polar opposite, truth be told––of the long nights of winter. And just as the winter solstice is accompanied soon after by Christmas, so is the summer solstice accompanied soon after by St. John's Day. Legendary magic attends both: at midnight on Christmas Eve, animals are said to speak or kneel and pray, and St. John's Eve is the setting for William Shakespeare's A Midsummer Night's Dream (some say it's set at May Day, but I disagree). Here in Lake Worth, the Finnish-American Club west of town will be having a Midsummer bonfire on Saturday night, just before St. John's Eve. It's an old old custom of Scandinavia––a magic all its own on a brief midsummer night.
Image: An example of Huichol string art from Mexico, used under a Creative Commons license, by Jebulon, 2011.