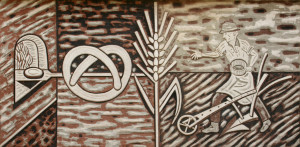 Last week, St. Distaff's Day signaled back to the workaday world for the women, and with the arrival of the Monday after Epiphany we have the official back-to-work-after-Yuletide day for the men: this is Plough Monday. There is a ceremonial ploughing of the ground on this day, which very often, in days of dirt roads, would be in the very road that ran through the village. The ploughs would be finely decorated, the men would parade in costume, there would be music and mummers and plays and a great hoopla of noise and all kinds of good sport. There would be a collection taken up door to door to pay for the tavern bill that came after; those who were too stingy to contribute risked having the path to their door ploughed, as well. Best, then, to contribute a few pennies to their sport.
When it comes to the costumes, the sillier, the better, and for sure there is a bit of the Feast of Fools, which we saw during the Twelve Days of Christmas, that comes into play on Plough Monday. It is traditional for one man in each Plough Monday gathering to dress as the Bessy, an old woman who we can link firmly to pagan goddess celebrations: she is the personification of the hag, the old woman of winter who, in the seasonal round of the year, will transform come spring into the virginal young goddess. And spring is not that far away in this world of spiraling circular tradition: Come February 2, we are halfway between Midwinter Solstice and Spring Equinox, a day marked by the holidays Candlemas, Imbolc, and Groundhog Day. It is a day seen in the traditional reckoning of time as spring's first stirrings, even if winter still holds a strong grip. The sun is gaining strength by then, with considerably more daylight on the 2nd of February than there was on the 21st of December.
There is another old tradition in Holland on this First Monday after Epiphany, little known, but important to those in the print trade (and to us here at Convivio Bookworks, for we are, at heart, a print shop): It is Copperman's Day, a traditional Dutch printer's holiday in which the printshop apprentices would be given the day off so they could work on a project of their own. The small prints that were a result of the day were typically sold for a copper apiece.
We've been working at reviving this fine tradition and for the past few years have been creating a Copperman's Day print. To date, they've all been mini-prints, the size of a standard postcard, printed letterpress by hand from historic wood and metal types. Each color a separate print run. It is slow and steady work and it often takes us more than a day to print them. In 2014, we printed our first Copperman's Day print, which reads Take Joy. Last year's, the second Copperman's Day print, reads Take Peace. If these two lines sound familiar to you, you already know what this year's print will read. All three of our Copperman's Day prints so far are inspired by a Christmas Revels reading originally penned in 1513 by Fra Giovanni Giocando, who, on Christmas Eve of that year wrote a letter to his friend, the Countess Allagia Aldobrandeschi. In 1978, Fra Giovanni's letter was distilled to its essence for the Christmas Revels performance at the beautiful Sanders Theater in Cambridge, Massachusetts. Here it is:
I salute you. There is nothing I can give you which you have not,
but there is much that while I cannot give,
you can take.
No heaven can come to us unless our hearts find rest in it today.
Take heaven.
No peace lies in the future which is not hidden in this present instant.
Take peace.
The gloom of the world is but a shadow.
Behind it, yet within our reach, is joy.
Take joy.
And so at this Christmastime,
I greet you, with the prayer that for you,
now and forever,
the day breaks
and the shadows
flee away.
And so we have beseeched you these past two years to take joy, to take peace. And now, we suggest you take heaven. Let our hearts find rest in it today. We'll be working on this year's Copperman's Day print as best we can this day. We'll let you know when it's available for purchase. (It will most likely be ready later than today and it will be a bit more than a copper, sorry!)
Image: Detail from "Kronengrasse in Stockach" (Crown Alley in Stockach, which is a town in the district of Konstanz, Germany). It's a series of tiles on a wall of a building there (the shop of a pretzel baker, I'd guess), photographed by Frank Vincentz in 2011 and used by permission of Creative Commons.