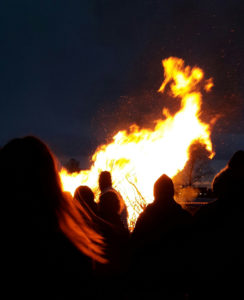 April draws to a close, and as it does, we welcome May. This is the whole premise behind this evening's celebration: it is Walpurgis Night, the Eve of May. If we have it in us to follow the old ways, we mark this evening with an outdoor fire. In Sweden, they'll be enjoying sparkling wine and gravlax, too, and here, we've got all those things at the ready: the sparkling wine and the gravlax are in the fridge; the copper fire bowl out back is empty and waiting for a stack of wood. There are places where folks stay out all night tonight, so as to properly bring in the May in the morning. The celebration is an old one, and an important one, for we find ourselves now at one of the year's junctures––the cross quarter day halfway between spring equinox and summer solstice. By traditional reckoning of time, we reach now the very start of summer.
And where Hallowe'en last October brought us the next day to November, Walpurgis Night––named for St. Walpurga, whose feast day comes tomorrow––brings us to the opposite spoke of the wheel of the year. Six months ago we began our descent down, into the earth. That juncture in late October in the Celtic tradition is known as Samhain (pronounced sah-win), the cross quarter day that marks the descent into winter, and the time of year when growth occurs below ground, in roots. But now we come to Beltane (pronounced bowl-tan-a), a time of emergence, the ascent into summer. Growth is more apparent, for it is visible and happening all around us in every budding tree and blooming flower and growing blade of grass.
It was a few years ago on Walpurgis Night that Convivio Book of Days reader (and fellow letterpress printer) Leonard Seastone gave us a pointer in the blog comments about a good song for this night. It's a traditional Swedish song called "Maj vare välkommen" (May Be Welcome), and that song will be part of our quiet celebration tonight, too, even if it's just playing in my head. Leonard signed off on that Walpurgis Night using his proper Swedish name––Lennart Einar Sjösten––so he seems to me a good authority on these matters. I hope he'll be celebrating tonight as Seth and I will be, and I hope you will, too, in some way, grand or small.
I'll be back tomorrow with your Convivio Book of Days calendar for May. For tonight, though, we wish you a good and warm Walpurgis Night. Welcome May!
Image: Valborgsmässoeld i Boden (Walpurgis Night in Boden [Sweden]) by M. Thorgren. Photograph, 2015 [Creative Commons via Wikimedia Commons].