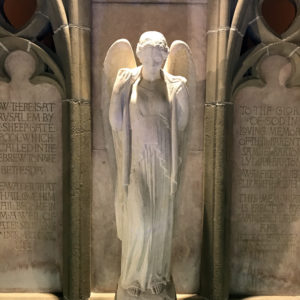 I am writing this in a church, which probably is not very reverent of me. It is the overnight watch, as Holy Thursday dissolves into Good Friday. The Easter Triduum. Apologies for my irreverence, and also for years of leading you astray, as I've told you for years now that lent, that somber season that leads to Easter, ends with the Easter Vigil Mass on Holy Saturday. Well, that's not true. It ends, I've learnt just tonight, with the Triduum of Maundy Thursday, Good Friday, and Holy Saturday. And so I apologize for years of misinformation.
While I'm pretty good with the secular stuff, I am certainly not your best source for liturgical information. Although I love churches (especially old ones), I have not been a very good churchgoer for a while now. My last time in a church was for Dad's funeral mass last February, before lent even began, and not since last Easter before that. But I love ceremony and I love tradition, and I love this night. It was my grandma Assunta who taught us the tradition of visiting three churches on Holy Thursday, though three may have been a tradition of her own––visiting seven is more traditional, an Italian tradition coming out of the seven basilicas of Rome and the seven stations of the cross. But we do what we know and three is what I have always known. And there are meditations that we are supposed to reflect upon while we are in those churches. But me, I am a visitor. I like to visit and sit in the company of those I love, and so this is what I do here, too. It may be just me and a few other souls in this dark church tonight, but in my heart all the ones I love are with me, too. My whole family. No one is missing. This is especially important to me this year.
The doors of this church will remain unlocked through the night. The church is open this night because, in the Christian tradition, Jesus asks us to keep watch with him this night in his agony. He knows already what the day ahead will bring. And so we watch, we keep vigil. Just as I did with my dad, not that long ago. The candles are lit, the statues are covered. I sit with my thoughts, and I type these words. Irreverent or not, I've brought you all here with me, too. It seems right to me, it seems good, in a holy place where our hearts are open, and where they open further, that we should all be together, sustained by angels, for all our joys and sorrows.
Image: Outside the Church of Bethesda by the Sea in Palm Beach, in the courtyard, is this statue, which greets me each Holy Thursday on my journey. "Now there is at Jerusalem by the sheep gate a pool which is called in the Hebrew tongue Bethesda."