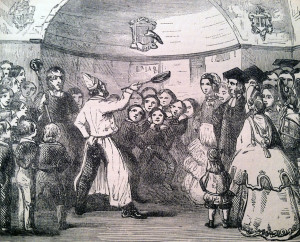 Tonight the festivity of the Carnival season comes to a close. It is Mardi Gras, Martedì Grasso… Fat Tuesday in English, Shrove Tuesday is the more common name. It is the last night for excess, for the morning will bring the solemnness of Ash Wednesday beginning the forty days of Lent.
Mardi Gras is not a big deal for most of the United States; we are not a Carnival people, by and large. There are dramatic exceptions to this and the Mardi Gras celebration at New Orleans is probably what comes to mind first for most Americans. An old acquaintance of mine from Alabama would be quick to point out that the earliest organized Mardi Gras celebrations occurred in Mobile. In fact, celebrations marking the end of Carnival were prevalent in Mobile and New Orleans as well as Pensacola and Biloxi… places that were colonized by the French and the Spanish long before English influences took hold.
While the English were not big on Carnival celebration, there were, nonetheless, traditions to be followed to mark the transition from Ordinary Time to Lent, for the fasting of Lent came out of necessity: by the end of winter, stored provisions were running low and the bounty of spring and early summer was still many weeks away. Even if there was no Lent, with its stern restrictions on meat, as well as milk and cheese and eggs and butter (Lent was more restrictive earlier on), these restrictions would probably have been a necessity all the same. Carnival in Latin-influenced countries became a time to use up what was left and to use it up in grand style through community-wide celebrations that lasted for days or weeks. In England and its colonies, this translated into one day of excess, and the excess took the form of pancakes.
Pancakes for supper? Why, yes. This is what Shrove Tuesday is all about. (Well, also it's about confessing your sins and getting right with God––but it is pancakes that most folks will associate with the day.) And so for most of us in the United States there are no masks and parades and beads for Mardi Gras… but for a lot of us, there are pancakes on the menu tonight. It was, early on, a way of using up all the eggs, milk, and sugar that remained in the larder before the 40 fasting days of Lent commenced, and the tradition of eating pancakes the Tuesday before Lent continues on even now.
In Germany, the tradition calls for doughnuts tonight, and the night is known as Fasnacht or Faschnacht. The idea is the same: using up all the remaining lard, sugar, and butter before Lent begins. But whether it is pancakes or doughnuts, there is something special about eating breakfast for dinner, or about eating homemade doughnuts after dinner. It's a little something, nothing dramatic, just something that marks the day, something celebratory, reminding us of the importance of enjoying what we have. Tomorrow comes Lent. Tomorrow we are reminded of the brevity of things. The reality is we are very fortunate and we should do our best to remember the gifts we've been given… like this, another Mardi Gras, another Fasnacht, another Shrove Tuesday. Laissez les bon temps rouler!
Image: "Throwing the Pancake on Shrove Tuesday in Westminster School," from the Chambers Bros. Book of Days, Edinburgh, 1869.