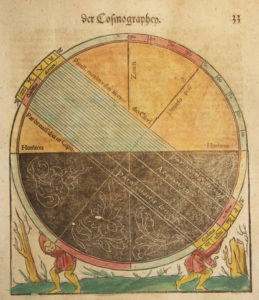 We come to a time of balance today with the arrival in the Northern Hemisphere of the spring equinox. The time of equinox balance tonight is 5:58 PM, Eastern Daylight Time. We are halfway now between the shortest day of the year (Midwinter in December) and the longest day (Midsummer in June). The sun rises pretty much due east, no matter where you are located on the globe, and sets pretty much due west. All is equal for a brief time and then the number of daylight hours begins to overtake nighttime hours in the North, as we head toward summer. And what is gained in the North is taken away in the South; there, winter is approaching, and there, this day brings the autumn equinox. It is a constantly changing beautiful balance, the balance of our planet spinning on its tilted axis as it orbits the sun.
Sunset on this first day of spring will also bring Purim, a holiday in the Jewish calendar marked by costumes, noisemakers called graggers, and delicious hamantashen, triangular shaped pastries filled with things like poppy seeds or prune or cinnamon and walnuts.
As for Seth and me, we are bringing in this springtide on a ship in the Western Caribbean. We are two people who do not like large crowds, and we have learnt to walk certain decks and to be in certain places at certain times so that it almost seems like there are not an additional 3,998 people sailing with us. The sea air is wonderful. Neither of us is seasick, but as we walk the deck, lifting one foot up before the other, we sometimes have to think long and hard about where to put that foot once it's up above the ground. As it would happen, balance is foremost on our minds this equinox day, and maybe that is just right.
Image: An illustration for a book of science by Sebastian Münster, 1600. [Public domain, via Wikimedia Commons.]