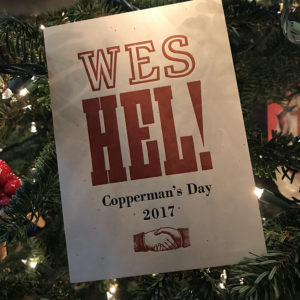 SEVENTH DAY of CHRISTMAS
New Year's Day
We've crossed the threshold from the old year to the new, and our journey through these Twelve Days of Christmas now grows more quiet and contemplative. At midnight, we toasted each other with wishes for a happy new year, but today, tradition would have us raise our cup once more. In an apple orchard, if you've access to one. But the Convivio way is to adapt old celebrations to what's possible in our contemporary world. We live nowhere near an apple orchard (even orange groves are hard to come by 'round these parts these days). But we do have a yard and there are fruit trees there; we see no harm in continuing the traditions in a way suitable to our current reality. You should join us by celebrating in your unique way, too.
It begins with wassail. The toast is "Wassail!" and the drink is wassail, too. I made my first wassail when I was a teenager, for this is what unpopular teenagers do, and it was not very good, not at all. The recipe I followed came from a 1980s Betty Crocker cookbook. I remember cooking up a huge pot of the stuff on the stove in the kitchen at our house in Lighthouse Point. The result was insipidly sweet and put off my whole family from the start. But I've improved my research techniques since those younger years, taking bits and pieces of what I liked about various recipes, until I came up with this one. It is, I think, pretty wonderful. I think you'll like it, too. The recipe here will serve a hearty group, but since we're keeping to smaller celebrations this year, you may want to do what we'll be doing and make just half of this recipe:
C O N V I V I O   W A S S A I L
Pour the contents of two large bottles of beer or ale (about 4 pints) into a pot and place it on the stove to heat slowly. Add about a half cup sugar and a healthy dose of mulling spices. (If you don't have mulling spices on hand, you can use cinnamon sticks and whole cloves… though the mulling spices lend a more complex flavor.) Add a half pint each of orange juice and pineapple juice, as well as the juice of a large lemon. Peel and slice two apples and place the apple slices into the pot, too. Heat the brew but don't let it boil, then pour the heated wassail into a punchbowl to serve.
New Year's Day custom calls for us to share the wassail with those gathered but also to take the steaming punch bowl out to the orchard and toast the apple trees and share some with the oldest or biggest tree in the grove. Some folks pour the wassail on the trunk of the tree, while others dip the lower branches into the wassail bowl, and others may place wassail-soaked toast or cake in the branches of the tree. All of which are invocations of magic meant to encourage a good crop of apples next summer. Traditionally, the wassailing of the apple trees is done at the noon hour. Again, we believe you'd do best to let tradition inform your ways, but not dictate how your days go. So if your wassail happens to be late at night (as ours will most certainly be), there's no harm in that.
Steaming punches like this were quite popular in olden times, on both sides of the Atlantic, and I am always up for bringing festive drinks like these back. A steaming punch begs to be accompanied by good Christmas songs and hearty exclamations like Huzzah! and Wassail! –– both of which have so much more spirit and gusto than our contemporary Cheers! Which is, of course, a good enough toast. But these twelve days are extraordinary days, so why not go for the superlative? One closing thought: in these strange pandemic times, perhaps we need a toast like Wassail! more than we know: the word comes to us from the Old English Wes Hel: "Be of good health!" Our wishes these days are simple; good health is something we would all take. And so then Wes Hel! Huzzah and cheers! And a happy new year to us all.
Image: That's one of our annual Copperman's Day prints. This one was made in 2017, and was inspired by the idea of wassailing and a general wish for good health (a wish, that year, for my dad). Copperman's Day falls each year on the Monday after Epiphany. It is an old Dutch printers' holiday, in which the print apprentices were given the day off to work on their own projects (which they then typically sold for a copper). We've been making Copperman's Day prints most years since our first one in 2014. Like steaming bowls of punch, it is yet another Convivio Bookworks attempt at reviving old traditions. That's us: ever the champion of the underdog.